Pact
Pact 0.0.9 - QoL Features and Bug Fixes
---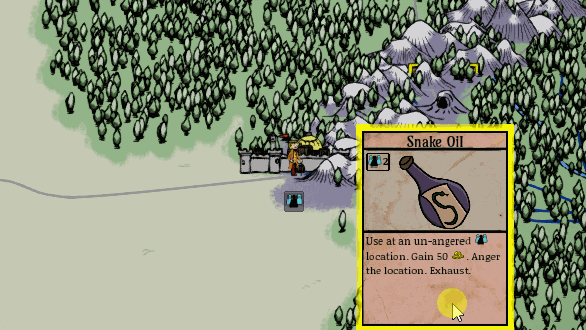 Here's a load of fixes targeting areas I've gotten reports on. Chagelist:

Added speech bubbles to social locations so they can respond to events
Fixed opening menu flow to hide the UI until the world is created (suggested by gornova)
Most UI now renders under cards so you can easily look at them
Mana and Gold fields are now auto-populated with relevant spells and mana costs (suggested by gornova)
Eternal Flame can now duplicate exhausted spells
In combat, drag a card over something you can't target and you will get a popup explaining why you can't target it
Mouse over bandits and demon hunters will now display their difficulty (suggested by gornova)
Fixed a crash when a location that is temporarily exhausted is replaced
Bulwark no longer shields back row allies, only front row allies (suggested by Jason)
Added a persistent cue for Demon Hunters to make them easier to spot when on a location (suggested by gornova)
When hitting end turn, the turn does not progress if the player is in the middle of an animation until the animation finishes (suggested by Jason)
An animation plays whenever an ability is added to either map or combat hands, showing you where the new ability ended up.
If you build in a location that a Demon Hunter is about to enter, it used to break the Demon Hunter, leaving them there forever unable to attack. This is now fixed. (Reported by Jason)
Fixed a soft lock that occured sometimes when allied Pikemen or Knights tried to self buff (reported by Jason)
Fixed a bug causing units to always target the same enemy with every ability / attack.
Files
pact-windows-x64.zip
154 MB
Version 0.0.9
Apr 01, 2020